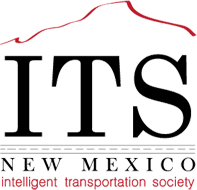 New Mexico Intelligent Transportation Society-Annual Meeting
 October 11, 2022 
Thank you and our Annual Conference was a great success!
We're back, again! Sponsor and Exhibit at the ITS NM 2022 Annual Meeting,
Tuesday, October 11, 2022, at the Marriott Uptown in Albuquerque.
The annual meeting of the Intelligent Transportation Society of New Mexico is returning as an in-person event and will be on October 11th at the Marriott Uptown in Albuquerque. As with our past meetings, it holds great promise to its members and the transportation community at large. 
We have a great agenda lined out that will cover a variety of topics related to the integration of current and new advanced technologies in transportation including:
Technologies that support vehicle autonomy and vehicle connectivity with the roadway,
Commercial vehicle operations,
Alternative uses of crowd-sourced data, 
ITS functions used for consolidated services, and innovative approaches to alternative uses of communications infrastructure, 
and more….
Our agenda will cover items happening on a global, national, regional, statewide, and even local front. Things have been happening and we want to share them with our members.
Additionally, there'll be ample opportunities to participate for prizes throughout the day. 
Finally, one of the things worth noting the most is you: ITSNM values you as one of our stakeholders. Without you, our meeting wouldn't quite be complete. Please consider attending. We hope you'll make it.