Intelligent Transportation Society of New Mexico (ITS NM) is a state chapter of ITS America.
Membership is open to any interested individual or organization including government agencies, private companies, consultants, educational institutions, professional organizations, emergency responders, and not-for profit organizations.
The Intelligent Transportation Society of America and ITS New Mexico are the leading advocates for technologies that improve the safety, security and efficiency of the nation's and New Mexico's surface transportation system. Our members include private corporations, public agencies, and academic institutions involved in the research, development and design of Intelligent Transportation Systems technologies that enhance safety, increase mobility and sustain the environment.
The Intelligent Transportation Society of New Mexico is an organization that believes innovative technologies can significantly improve the performance of our transportation system by 1) saving lives and 2) reducing congestion.
The mission of ITS New Mexico is to foster the application of ITS solutions in New Mexico by encouraging innovative ideas, supporting public-private partnerships, advocating ITS deployment, offering guidance to governmental decision makers, and encouraging interest and support of ITS in our State.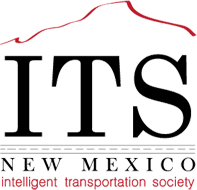 New Mexico Intelligent Transportation Society-Annual Meeting
October 11, 2022
Our Annual Conference was a great success thanks to you and your participation!
External
Advocate ITS on behalf of our members
Provide an exciting non-competitive forum for ITS information exchange among public, private, and academic sectors
Partner with other industry associations
Promote the development and expansion of ITS markets
Promote collaboration among ITS stakeholders
Advise the State Legislature, the NMDOT, and other governing bodies on ITS issues and advancements
Provide training opportunities for our members
Support research and ITS education
Internal
Maintain a strong chapter structure
Maintain a high level of ethics in all undertakings
Maintain financial stability in all accounts
Expand and Diversify Membership
Provide services responsive to member needs
Engage membership and potential membership in chapter activities
Show leadership in regional and national ITS activities
Suresh Parvatoja
Vice President
Nathan Masek
Past President of ITS New Mexico
David Wilson
Past Vice President of ITS New Mexico
John Di Ruggiero
Founding President of ITS New Mexico
Charles Remkes
NMDOT, ITS Bureau Chief
Paul Barricklow
Past Secretary / Treasurer of ITS New Mexico
Jeremy Cok
NMDOT, ITS Engr. Mgr.